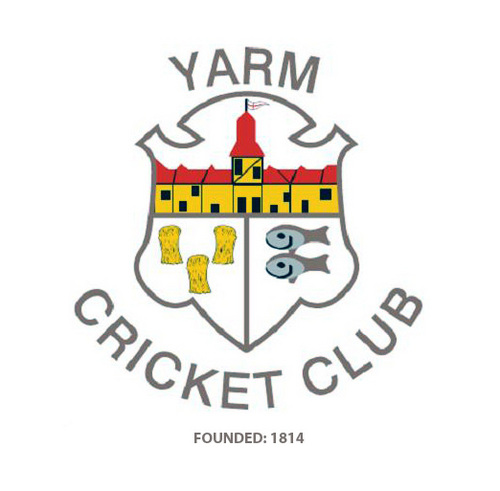 Established in 1814, Yarm Cricket Club continues to provide the local community with the opportunity to participate and enjoy the game of cricket. In recent years we have developed our pavilion facilities, achieved ECB Clubmark accreditation, increased participation and are continually looking to develop all aspects of the club. More information is available from our blogs: The Inspired Pavilion Development & History of Yarm Cricket Club
We field 3 senior teams in the ECB North Yorkshire & South Durham Cricket League, a Friendly XI and 5 junior teams at Under 11, 12, 13, 15 and 19. We also run a Junior Academy, providing cricket coaching to kids from the age 5 to 9.
New senior playing members are always welcome, with cricket being played at all levels from the competitive nature of the 1st XI, to the more laid back and social Friendly XI. For next season we would be particularly keen to hear from competent team players, who feel they could bolster our 1st & 2nd XI and help us improve on our performance in 2016. For all senior enquiries, please contact Gareth Jones (Club Captain).
New junior members are the lifeblood of any good club and we are no different. In recent years our ECB Coaches and assistants have done a fantastic job, introducing local kids of all ages to the sport and helping them to develop into exceptional young players. For 2016, juniors are welcome at any age from 5 - 17, but we'd be particularly keen to see more players of 11-17 get involved. For all junior enquiries, please contact Chris Gibbons (Elite 9 - 17) or Stewart Ballantyne (Academy 5 – 9).
Membership Forms for 2016
Click for Junior Membership Form
Click for Senior Membership Form
2016 Training / Coaching Schedule:
Indoors: Sundays @ Conyers School (17th Jan - 20th March)
U9 - Welcome to Cricket: 4pm - 5pm
U11 Development Squad: 5pm - 6pm
U11 Elite Squad: 6pm - 7pm
U12 / U13: 7pm - 8pm
U17 / U19 / Seniors: 8pm - 9:30pm
Outdoors: @ Leven Road Ground (9th Apr – 16th Sept)
Academy, U13 & U15 - Saturdays 9:30am - 11:30pm
U11 & U12 - Fridays 6pm - 7:30pm
Seniors, U17 & U19 - Wednesdays - 5:45pm – 8pm
These are exciting times to be involved in Yarm Cricket Club and we are always on the look out for new Volunteers. We have a wide range of volunteer opportunities available throughout the club, from Committee positions through to ground and coaching assistants. We also welcome enquiries from any local students undertaking Duke of Edinburgh schemes or those who would just like to improve their CV's.
Sponsorship and fundraising plays a major role in all clubs and we are no different. We can offer sponsors great coverage via our large social media presence, on-site advertising and tailored to suit packages. We have packages available from £25 and if you or your company are interested please get in touch. Individual donations are always welcomed via our Just Giving page.
2016 Diary Dates:
20th March - The Yarm Mile @ YCC - All in aid of Sport Relief, 100 entrants over 1, 3 or 6 miles and taster sessions on offer for Cricket, Tennis and Squash. Further details will be available after Christmas, come down and get inspired to take up sport. Sign up for the event at Sport Relief
2nd & 3rd April - Natwest Cricket Force - 9am start @ YCC to get the pavilion cleaned up, decorating done, nets up, screens up and ground prepared for the season. Refreshments will be provided and if any local businesses want to get involved please get in touch.
9th April - Annual Race Night - 7pm start @ YCC. Eight races to have a flutter on, a tasty buffet half way through and plenty of fun to be had at this much loved event.
9th July - Family Fun Day - 9am start @ YCC - All the usual fun, cricket tournaments, lads v dads, BBQ, cake stall, raffle, etc. Bring along family and friends to enjoy a great day.
Many more events are planned for 2016, including our YCC Summer Coaching Camp and Junior Tournaments. Further details will be provided once dates are confirmed. If you have any suggestions for future social events or fundraisers, please contact one of our Committee Members, Captains, Coaches or follow us on Facebook and Twitter for up to date news.
For further info regarding membership, coaching and general enquiries, email admin@yarmcricketclub.co.uk